Home Insulation experts in UT
Dr. Energy Saver is dedicated to helping homeowners save energy and money with insulation upgrades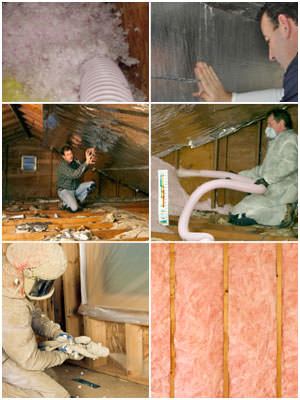 We offer Cellulose, Rigid Foam, Radiant Barriers, Blown-in, Spray Foam and Fiberglass Batts, and many different types of insulation for different types of jobs.
You don't need a degree in thermodynamics to know that heat always moves from more to less. In the wintertime, heat moves naturally from inside to outside. During hot summer months, heat "wants" to go the opposite way, moving inside the house to make spaces uncomfortably hot. Insulation saves energy and money by slowing the flow of heat. Here are some important facts that will help you decide how to save energy and money by improving your home's insulation.
provides expert installation services to improve attic insulation, wall insulation, crawl space and basement insulation, and garage insulation.
The more R-value, the better. There are many different insulation materials, but all types of insulation are measured according to their resistance to heat flow, or R-value. Fiberglass batt insulation, for example, has an R-value of about R-3.6 per inch while rigid foam can range from about R-4 to R-7 per inch. To achieve the higher "target" R-values recommended by the U.S. Dept. of Energy, it's necessary to install thicker layers of insulation.
Correct installation is critical. For any type of insulation to achieve its rated R-value it must be installed properly. When insulation is compressed, moist or installed with gaps or "voids," its performance drops significantly.
Dr. Energy Saver is a full-service insulation contractor providing the following services:
Inspect and assess existing insulation throughout the house
Recommend specific insulation upgrades to improve energy efficiency
Provide Free Estimates for all recommended work
Install new insulation in all areas selected by the homeowner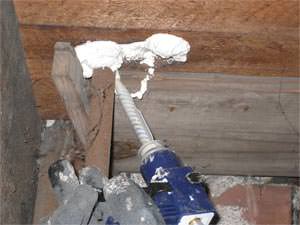 Spray foam seals and insulates. Conditioned air from the living space below can leak into the attic through numerous gaps around wiring and plumbing lines. Dr. Energy Saver uses spray foam to seal these openings.
Insulation and air-sealing go together. Sealing leaks in the "building envelope" is an important energy-saving step that should be done along with any insulation upgrade. Without effective air-sealing, heat can move by convection through most types of insulation, nullifying its energy-saving value.
In any prescription for lower energy bills, it would be malpractice to install insulation without first sealing energy-wasting leaks. It's especially important to seal attic leaks before installing new attic insulation.
Existing insulation often needs to be moved or shifted out of the way in order to uncover attic air leaks. Dr. Energy Saver can also perform a blower door test to discover where air and heat are leaking into an attic.
After detection comes correction. Dr. Energy Saver uses the most up-to-date materials (including sealants, caps to fit over can lights, and different types of spray foam) to perform air-sealing work.
The "best" insulation depends on installation requirements. There's no such thing as the perfect insulation. Because of different handling, installation and performance characteristics, one type of insulation is likely to perform better than another in a given application. The cost of different types of insulation also varies. Dr. Energy Saver has the experience and expertise to recommend and install the right insulation for the application. We aim for cost-effective, top-performing insulation.
Most homes aren't adequately insulated. Don't waste energy (and spend money) needlessly! Call Dr. Energy Saver today to schedule a free home insulation inspection!
Start Saving Energy and Money With An Insulation Upgrade.
Call 1-888-914-4171 or contact us online to schedule a free home inspection and insulation estimate.

Related Pages:
Looking for a price? Get a no cost, no obligation free estimate.
Dr. Energy Saver can not only conduct a home energy audit, but can perform many other energy saving measures at the same time! Such as: air sealing, insulation installation, ductwork, heating and cooling services, window replacement, and more!
| | | | |
| --- | --- | --- | --- |
| Gas Furnace Heating | Air Sealing | Commercial HVAC | Air Conditioning |
| | | |
| --- | --- | --- |
| Duct Cleaning | Heatpump Heating & Cooling | Radiant Barrier |